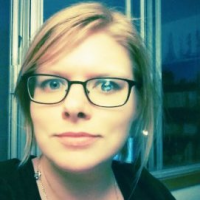 Colleen Steppa
I'm a licensed social worker by trade and copywriter and blogger on the side. I have a Master's in Social Work and am currently pursuing a Master's in Business Administration.
My previous work includes business copywriting for Expertise, LLC and blog writing for MinnyApple, an independent news blog based in Minneapolis, Minnesota, where I wrote theater reviews and local news articles. I have also conducted and presented independent research and am familiar with academic formatting for publications (APA, MLA, Chicago). My marketing experience includes newsletter production for the International Association of Social Work with Groups, where I created promotional materials to publicize fundraising events and provided updates on relevant bills in the Minnesota legislature.
I'm available for commercial copywriting, transcription, marketing, and promotion as well as articles or blog posts on current events, politics, management, and the arts.
You can see more of my writing style on my personal blog, at permylastemail.wordpress.com
Expertise Copywriting, blog writing, research, academic writing, editing, translation, transcription
Skills Licensed social worker, fluent French speaker, interested in current events and social justice. Previous experience editing Drupal websites, MailChimp marketing materials, fundraising, grant writing, and event promotion
Location Minneapolis, Minnesota